Many families have been displaced and are needing needing furniture in their new place of residence. St Vincent de Paul's Community Center is in need donations of furniture (chairs, tables, sofas, lamps, etc). At this time donors are responsible to get donations to the center.
- Deliver to 945 S Edwin C. Moses Blvd
- M-F, 7:30am – 4:45pm
- Saturday, 9:30am – 3:40pm
20 volunteers are needed this Saturday June 22 and June 24 – 29, from 10am – 5pm. Dozens of families are being served each day more help is required!
- Call 937-610-6101 for info and to volunteer
- Help is needed at mobile location set up at 1500 Shiloh Springs Road
- 25 Volunteers to unload 2 semi trailers on Monday June 24 at St Vincent de Paul (warehouse behind the Job Center).
- 2 volunteers needed daily (8-11am) beginning Tuesday, June 25th to drive a u-haul (provided) to deliver home furnishings to families who just moved in (INSTRUCTIONS HERE).
Hundreds of advocates needed—the goal is to match each displaced family with a supportive family, having consistent contact for support and encouragement for 3 months. Training and screening will be provided through Miami Valley CAP.
Ongoing Volunteer Needs
- Call the Volunteer Reception Center at 937-512-5700 or email vrc@sinclair.edu
- Organizations can request volunteers using the same contact info.
- More resources are available at Sinclair.edu/tornado.
Back to School Drive (July - September)
- Churches and organizations are partnering with Crayons to Classrooms to provide backpacks and school supplies (and uniforms for some schools) for the over 10,000 students in impacted schools across Montgomery, Greene and Miami Counties.
- More details to follow
Financial Donations
MiamiValleyCAP.org - To pay for displaced families first months rent, furnishing & repairs
DaytonFoundation.org - To support various nonprofits engaged in relief efforts
LivingCityProject.org (below) – To support continued collaborative church and community relief efforts
Upcoming Engagement Meetings (Housing Support & School Drive)
2 identical engagement meetings on Thursday, June 27th at 1750 Woodman Drive, Dayton
9:00 – 10:30am
2:00 – 3:30pm
Giving is being managed the 501c3 Nonprofit Ministry of Declare. You may designate your giving for "Living City Project" and all donations will support relief efforts.
While Declare is a Christian-based nonprofit, we are honored and excited to join with people of all backgrounds and beliefs for relief efforts. We all need to be involved and invite everyone to participate with us in these initiatives!
Thank you to the thousands of volunteers who have served!
Yes, over 3300 volunteers came out to serve on Saturday, June 1st to serve across Dayton, Trotwood, Beavercreek, Harrison Township and West Milton! We were blown away ourselves. The difference from beginning to end of that one day was transformational. Public works directors and community leaders across the region didn't know what to say—work that they thought would take weeks was completed in a number of hours!
Thank you also to the thousands more who have continued to volunteer in the following weeks to reach each address and even help remove brush and debris from the curbs. National organizations that came in have been amazed at how quickly the cleanup process has gone. They can see the impact of a community standing strong and working together to make sure we reach and love every person who has been impacted!
Wow! Working together, we did it!
(April 6, 2019 citywide cleanup)


29 host locations
1233 registered volunteers
21,580 lbs (10.79 tons) of tires collected
228,980 lbs (114.49 tons) of bulk waste collected
250,560 lbs (125.28 tons) of total weight collected!
"Congratulations on the biggest cleanup in the history of the city of Dayton!"
- Mayor Nan Whaley
Yes, congratulations to all! Thank you to everyone who made this incredible work possible. From every volunteer to the City of Dayton, Dayton Inspires, Grandview Medical Center, Keep Montgomery County Beautiful, churches, organizations, neighborhood presidents and host sites all across the city—thank you!
This work is NOT done! We are in the process of converting this web page into a clearing house to promote the ongoing cleanups and neighborhood beautification projects throughout the year. We need your help! Please email LivingCityProject@declare.org with any upcoming opportunities so we can get these posted! Also look for social media pages to launch soon so we can all follow along and work together until next year's big spring cleanup.
Enjoy the photos below by Melvin Williams and J Spivey Photography!
Upcoming Projects
Please email us at LivingCityProject@declare.org if you are aware of another project we can post!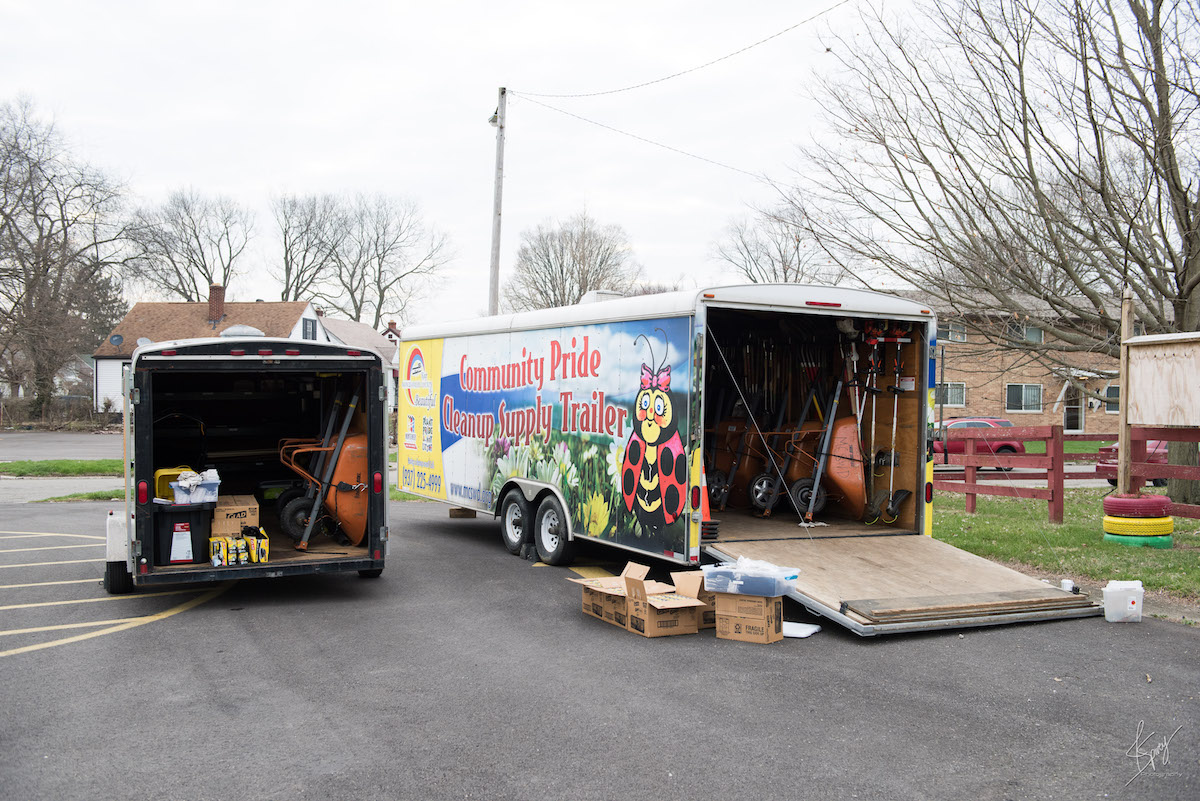 A great resource for future cleanups is Keep Montgomery County Beautiful (www.kmcbohio.org). They are happy to provide trash bags, gloves and pickers for your neighborhood cleanup and you can also reserve the community pride trailer by contacting Chris Hoffman at 937-781-3064. Availability is limited—please reserve a few weeks in advance!
More resources to come!
We would also like to honor and remember Cortney Jonker, who spoke these inspiring words on Saturday at the afterparty before going home to be with the Lord on Monday.
"I also have developmental disabilities. I'd like to say no matter what your difference is, whether you have a disability, racial differences, ethnicities, we can all come together under God and under Jesus to make a difference."
This work must continue. There is too much at stake here for us to stop. And working together, we can continue to make the difference Cortney spoke about!
#LivingCityProject